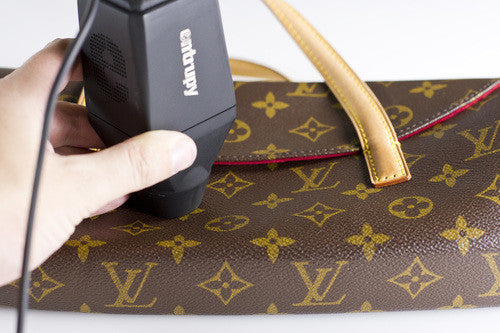 Using computer algorithms against Chinese Gucci's
Posted by : David Brewer /
Four hundred and sixty BILLION dollars. 
That is the amount spent on Chinese counterfeit goods each year according to some.  Luckily some very smart people over at Entrupy Inc. developed a handheld device that can detect fake designer handbags. 
Now for those of you who may not be well versed in the luxury handbag market let me tell you there is a lot of money at stake. The typical Louis Vuitton bag sells new for around $1500-$3000. The chanel for $2000 to $5,000. There Hermés is anywhere from $3,000 to $100,000 and more. Yes you read that correctly. 
I would estimate two out of ten handbags that come into our store is found to be fake. I'm certain a lot of our customers had no idea they were carrying around a fake.
In one instance we told the customer her bag was a fake and she was able to return it to a very well known online retailer of used handbags. I won't name the company as we sell on their site but it is very reputable, large seller of luxury goods.  She received a full refund after we helped her prove it wasn't authentic with our Entrupy device. 
 There is simply no way for the average person to determine if the chanel they bought is fake unless they actually purchased it from the Chanel store itself or it just a really bad fake. It's so bad a pawnshop in Huntington beach bought this
Chanel and were certain they had mistakenly bought a fake. They threw it on their shelf in the back like we do with all our Chinese made mistakes. 
Guess what? Two years later using an Entrupy device they discovered it was real after all. 
So how does the device work? It is actually a handheld camera capable of taking microscopic images of the bag's materials. These are uploaded to the companies computers and algorithms check the images against thousands of known authentic bags. Currently they are reporting 97% accuracy. 
At Posh Pawn we have purchased hundreds of bags and given loans against hundreds more. If we need to have that extra assurance a piece of technology gives us for authentication then I would highly recommend only buying from a store that uses it too. 
We currently are able to authenticate Louis Vuitton, Chanel, Burberry, Balenciaga, Celine, Prada, Feni, Dior, Gucci, Goyard, and Hermés.
If you have a bag your aren't 100% sure it is authentic, like our Facebook page , and we'll give you a free authentication with the Entrupy device. Also check out our Louis Vuitton Style Guide page to see all the different models of handbags.